What They Offer
$10 off Mingo Makes It – Pottery Classes
800 NE 13th St, Fort Lauderdale, FL 33304,                (305) 307-9038
Beginners Pottery Class Price: $80 / student $70 as a Sand Dollar Member ( 1 person per ticket)
Duration: 2 hours
Candle Making Level: Beginner
Price: $50 per student (1 person per ticket)
Duration: 1 hour
See Below The About You for Details… Its down there we promise:)
Novembers Events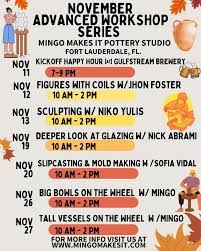 Mingo Pottery Studio was founded by Domingo (Mingo) Olavarria in 2018 in the heart of Fort Lauderdale. The studio started out of the love for teaching, learning and want to share ceramics with as many people as possible.  As the studio began to ground its roots, it was soon apparent that the local potters, artists, creatives, and even tourists wanted to be part of something more.
Today, our studio is home to an ever growing clay community that embraces people from all walks of life regardless of their artistic background. Our open concept space allows for the flow of ideas, techniques, story-telling and an overall collective experience. With no partitions, our students and members are able to share their clay journey with each other. It's common to see our community not only learning from each other but also laughing and sharing memories. Our space cultivates the continuation of learning through what you see, hear, and do!
At Mingo Pottery Studio, your art is what you want it to be. We offer classes, courses, and workshops to begin or further your craft and above all, we offer a clay community you can be a part of. So whether you are looking to learn something new, continue practicing your clay craft or even sink your hands into clay for art therapy, our studio is your space to find that. We have grown into a space with tons to see and do– running courses, hosting art shows and monthly brunches, selling our studio-made products and so much more.
We invite you to learn more about our community through our site but if you're in the area, definitely come out and clay!
2-hr Beginner's Pottery Wheel Class
About the Class
Welcome to the exciting world of pottery!
This class is the perfect introduction to the clay life. For about 2 hours, you'll dive elbows deep (quite literally) in learning to center, cone, mold and shape your clay into masterpieces made by you.
Our instructors will guide you throughout the two hour class which typically provides enough time to create 2 pieces per student. All materials and tools are included to set you on the right path for success. We'll even do the glazing for you! Just pick your colors and we'll make sure your pieces are ready to show off when you stop by to pick them up.
Whether you're a beginner or just looking to brush up on your skills, this beginner's wheel class will be sure to fire up your need for clay.
Level: BEGINNER
Price: $80 / student $70 as a Sand Dollar Member ( 1 person per ticket)
Duration: 2 hours
Candle Making Class
Although pottery makes for amazing mugs and bowls, let's not forget it can also be used as the perfect vessel for a candle! This class will teach you how to make your very own candle!​
For this class, the pottery vessel that will hold the candle is already created, so you'll be solely focusing on the creation of your room-filling fragrance. Your instructor will guide you through the process of preparing the wax and incorporating the scent of your choice for your candle. We have an amazing lineup of fragrances at our scent bar and the ingredient for your candle is 100% soy! All materials for candle making are included. Candles usually take about half an hour to cool and ready for use within 2 days.
Get ready for an easy and exciting experience making your own artisan candle. Or you can even gift this experience to your favorite person!
Level: Beginner
Price: $50 per student (1 person per ticket)
Duration: 1 hour
https://www.instagram.com/mingo.makesit/
https://www.facebook.com/mingomakesit/
Reviews